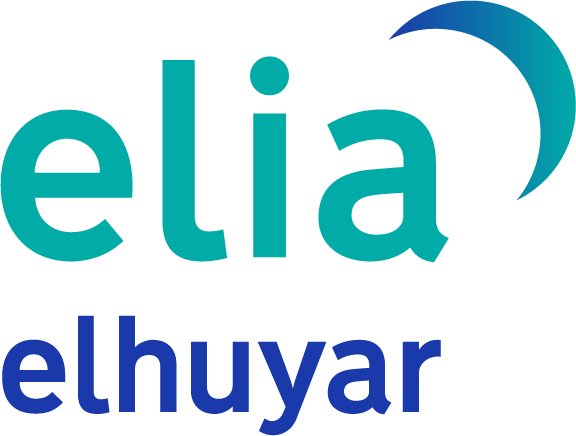 Machine translation obtained using Elia by Elhuyar
Yearbook 2022-23
|
Edorta Arana (UPV/EHUko NOR Ikerketa Taldea, Applika+ ikerketa proiektua)
Internet-connected devices are widespread among the population, which has led to new behaviour by young people and the elderly. Many applications, suppliers and electronic devices have become everyday applications of communication, entertainment and information. Digitalization has deeply shaken the world of communication and, within it, the media related to audio.
In the following lines we refer to the phenomenon of podcasting and the data indicate the space it has occupied among us, when, how and why these sound products are consumed.
Context of digitisation
To understand the current communication landscape, there are a number of factors that need to be taken into account: The development of ICTs, which people have quickly incorporated in their daily lives the use and products of some devices and, finally, the way companies moving in the field of media and telecommunications are moving to adapt to the new situation.
Global data is very revealing: 62.5% of the population has Internet access and 67.1% has mobile phone available (We Are Social and Hootsuite, 2022).
European figures are even higher, and in Spain and France, as well as in the Basque Country, nine out of ten have access to the network and how to use various devices for this purpose.
On average, online communication, learning, entertainment or shopping have become very common in people"s everyday lives. In the Digital 2022 Global Overview Report, to which reference has already been made, people aged 16 to 64 years who operate on the Internet pass through the net the following daily time intervals:
6 hours and 58 minutes online
3 hours and 20 minutes watching television (linear and audiovisual services by streaming)
2 hours and 27 minutes of social media use
2 hours of daily reading (paper and web)
1 hour and 33 minutes listening to music via streaming services
1 hour and 12 minutes on video consoles
An hour and a minute listening to the linear radio.
55 minutes listening to podcasts
As you can see from the list above, in one way or another, people spend 3 hours and 29 minutes a day on audio-related media and content, whether it"s Spotify or iTunes, conventional linear radio or listening to podcasts by mouth in recent years.
Digital audio
More and more people are watching sports retansmissions, movies and series, music concerts or documentaries through digital services and providers beyond traditional television, whether through Netflix, Movistar, Youtube or many on-demand platforms. The same is happening with audio, and although sequential radio is trying to keep its audience (CIES, 2021), in recent times online offerings have had a considerable boost.
The CAMA (2021) has published a report outlining the different types of offers that can be found in the digital audio area:
Online radio stations live/streaming (from the web, from the application…)
Deferred online broadcasters
Podcasts (content that can be heard downloaded or online, whether previously broadcast by radio or original digital products)
Music on demand (Spotify, Apple music…)
Audio books
-Aggregators (iVoox, TuneIn, 4g…)
-Smart speaker specific products (Alexa, Siri, Google Assistant…)
Above these seven typologies that appear in the classification, what is clear is that audio has gained new fields from the Internet. Traditional radio production maintains and maintains sequentiality, but there are many other possibilities that open up the universe of audio, including so-called podcasts. If the products that follow this word have something in common, it"s that listeners decide what, when, where and through what apparatus they"ll hear. Podcasts feed the listener's autonomy and have been easily installed in people's new audio consumption habits. This has also meant an approach to younger generations, to new content, formats and narratives and, as already mentioned, an important change in consumption.
Podcasts listeners
Prodigioso Volcano (2022), in its third digital audio state analysis report, details the extent to which audio consumption is widespread in the Spanish state, when, how and why it is heard.
Focusing on internet users over 18 years of age, 53% say they have listened to podcasts in the last three months and while it is true that this amount was required due to the pandemic situation (data collection took place in November 2021), in the two previous editions of the study the percentages were 42 and 47. Therefore, the habit of listening audios to the letter is extended beyond the sequential radios.
Podcast consumers mainly use the mobile phone for this task (79.2%), ahead of the notebook (25.4%).
Where do they hear or what do they do while using podcasts? Responses are common "at home" (67.5%), but some respond "on the way to work" (27.4%), "walking" (19.6%), "before sleeping" (16.6%) or "in sport" (10.8%) or "at work" (9.8%).
Released from sequential audio, there are three main suppliers for these consumptions, about a thousand people who have participated in the study: Spotify (56.7%), iVoox (22%) and Google podcast (13.9%).
When choosing podcasts there are many reasons, but what matters is the possibility of listening to them when they want (55.4%). Behind the scenes are comfort (11.5%), diversity of content (8.4%), interest/practicality of content (7.9%) or the possibility of doing something while listening (5.9%).
Regarding the reasons for going to podcasts, the results of this study coincide with another study carried out in the French state (Harvas Paris, CSA, Podinstall, Paris Podcast and Gaîté Lyrique, 2021), in which 82% say they offer the opportunity to feel at ease this type of audio products and that they find it a great advantage to be able to dedicate to something else (85%). Perhaps that is why listening to podcasts in France has become a habit for a third of the population (33%).
Research on both sides of the border highlights the existence of content that is very common in the audience (IAB, 2021; Médiamétrie, 2022 and Prodigioso Volcano, 2022). As an example, in the Digital Audio Study 2021 of the CAMA the following contents are mentioned among the most heard: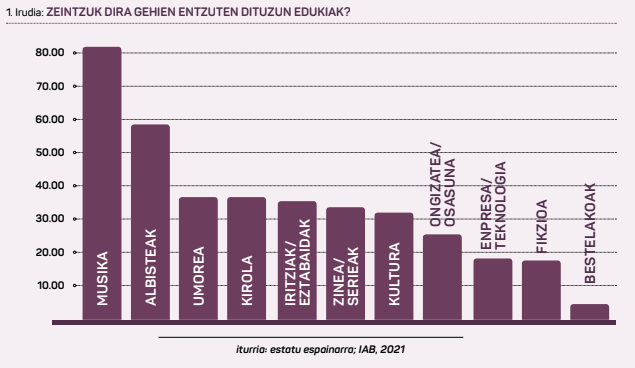 According to the study Digital Audio Study 2021, the hobby of podcasts is more widespread among people aged 35 to 54 years (41.6%), although its impact on other age groups should be highlighted: 16-34 (30.5%) and over 55 (27.8%)
Podcasts among the youth of Hego Euskal Herria
Data from the Ikusiker Audiovisual Observatory (2022) have been analysed to ascertain the extent to which young people are disseminated in the field of on-demand hearing. In this panel, more than 2,000 students from 12 to 23 years old residing in Hego Euskal Herria are grouped. These young people who are in high school or university are sent online surveys to learn their communicative behaviors, including podcasts. Among the sections that the questionnaire addresses are the scope of the podcast, the most used devices, the most heard topics and, in general, the valuation they make of these audio products.
The 2022 spring survey shows that just over half of youth listen to podcasts, especially at university level (71.9%). The percentage of high school pupils is 49%. The table below shows how listening habits are carried out among students of different ages.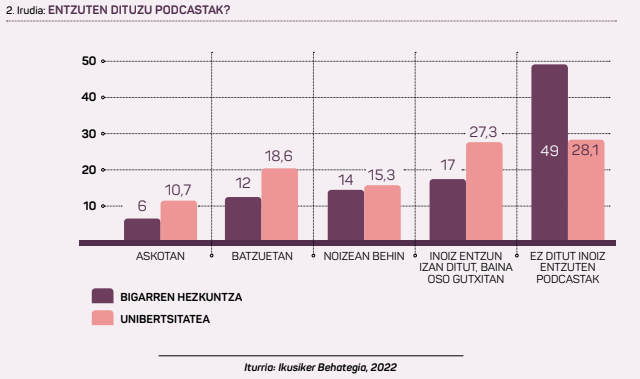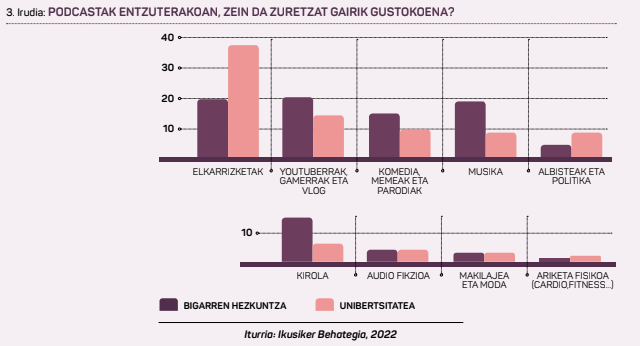 In general, when podcasting is asked to make a note, the 12-17 year-olds have given him more modest notes (an average of 5), but among the students of the UPV/EHU and the UPNA 45% have evaluated it very well and 18.9% very well.
Those who claim that audio is living a new flourishing are clear that the podcast is, today, the most widespread label among young people and adults, with which the rupture of the essentiality and the possibility of enjoying sound products anywhere, anywhere and at any time is represented.
-ERR:NULL-REF-
Bibliography
CIES (2021): Media Audience Study in the A.C. Basque Country and Navarre. https://instagram2.com/documents/dice/media/Residu_ ▪
Harvas Paris, CSA, Podinstall, Paris Podcast and Gaîté Lyrique (2021): Les françaises et le podcast natif. https://csa.eu/csa-content/uploads/2021/10/lesfrancaisetlepodcastnatif.pdf
BIA (2021): Digital Audio Studio 2021. https://iabpain.es/study/engineering -ieron
Ikusiker Observatory (2022): Music, radio and podcasts. Report No 29. February 2022. https:
Médiamétrie (2022): Global Audio > Focus Podcasts. https:
Prodigious Volcano (2022): III Study of voice and audio in Spain. https:
We Are Social and Hootsuite (2022): Digital 2022 Global Overview Report. https: