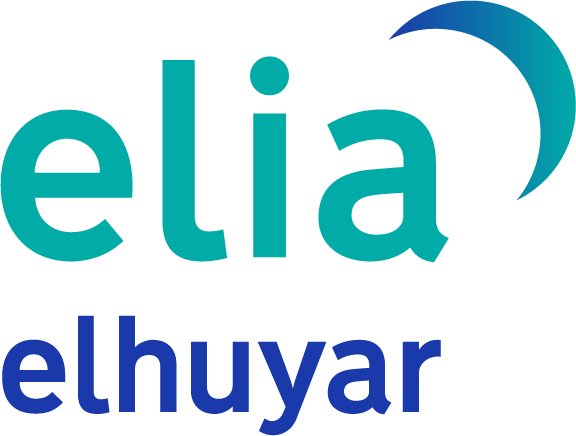 Machine translation obtained using Elia by Elhuyar
Yearbook 2021
|
Edorta Arana Arrieta, Maialen Goirizelaia Altuna, Naia Laka Arrizubieta, Blanca Miguelez-Juan, Bea Narbaiza Amillategi eta Itziar Zorita Agirre (Applika+ ikerketa proiektua, UPV/EHU)
Different research shows that ICTs reach an increasing number of people and that the time we spend throughout the day increases (IAB, 2021; We are social, 2021, AIMC, 2021; Barlovento Comunicación, 2022; Médiamètrie, 2021). It is increasingly important to have a device connected to the network to work, spend time, communicate or receive information.
In this context, it is becoming increasingly difficult to distinguish the spaces defined by ICT from the times and destinations of electronic instruments. The public and private, work and leisure spaces and the mobiles we use in all of them, laptops, tablets or smart televisions are very present in our daily lives.
In any case, despite being common artifacts, three social functions prevail: communicating with colleagues, informing and feeling entertained. As mentioned above, the computer equipment and means we use for these three tasks are mixed, but a certain specialization is appreciated. More use is made of social communication networks and instant messaging via mobiles. You still prefer television and its big screen to channel information. And finally, they are dedicated to so-called entertainment, on the one hand, television itself with live content, on the other, social networks with short videos and, finally, uptake of fiction, digital platforms.
In this article we will talk about the latter because in people's everyday life fiction occupies an important place, especially among the youngest, and because it also explains what content they like, when and where they see it, and above all how they discover those fictional content in a vast audiovisual catalog so prolific. In this paper we will look at the consumption behaviors of the young people of Araba, Bizkaia, Gipuzkoa and Navarra, analyzing the responses of the surveys we have sent to the members of the Ikusiker Panel, created for this purpose. Among these young people aged 11 to 23, we will talk about the importance of fiction content and the spectacularity of different products.
Last seen content
As pointed out in the introduction, the presence of audiovisual media is currently particularly high among young people. We have sought to delve into the nature and behaviour of the consumption of these products through a number of consultations. First, the students of the UPV/EHU and the UPNA that make up the Ikusiker Panel in early 2021 (1) were asked if there were any entertainment, information or fiction content among the videos, programs or stories observed in recent days. The answers show that these university students are easily imaginable with the intention of entertaining, being informed or enjoying fictional content. As shown in this first figure, there are other types of content, but most young people remember these three contents more clearly.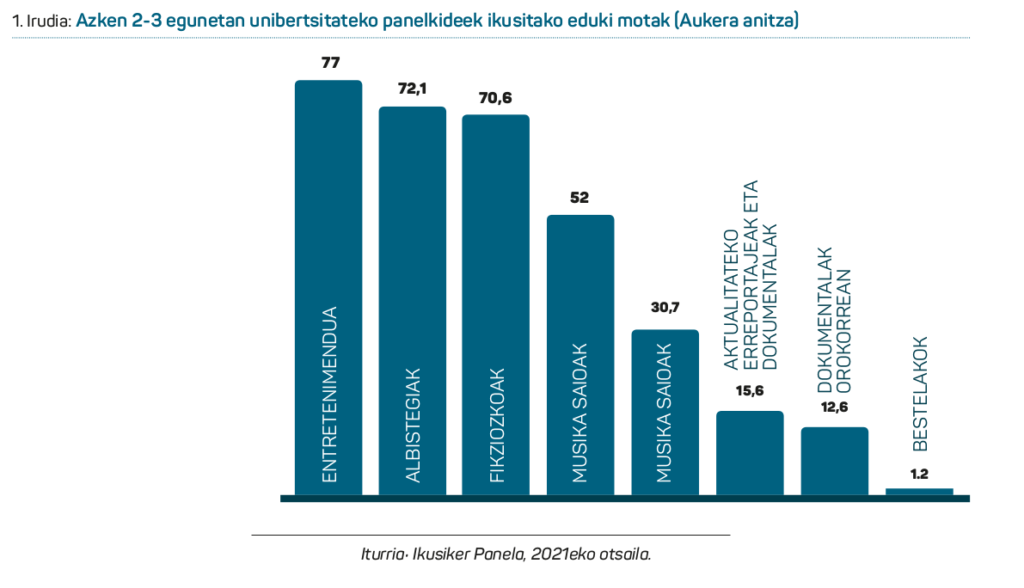 The results of the following images show that three factors positively influence the decision on what they will see, and this is indicated, respectively, by 53.9%, 50% and 595% of respondents (we collect the answers "fully agree" and "slightly agree"). Just over a quarter of it is not clear to what extent the thrust of friends, social networks or algorithms feels when marking their consumption. Clearly, the number of those who do not identify is much lower.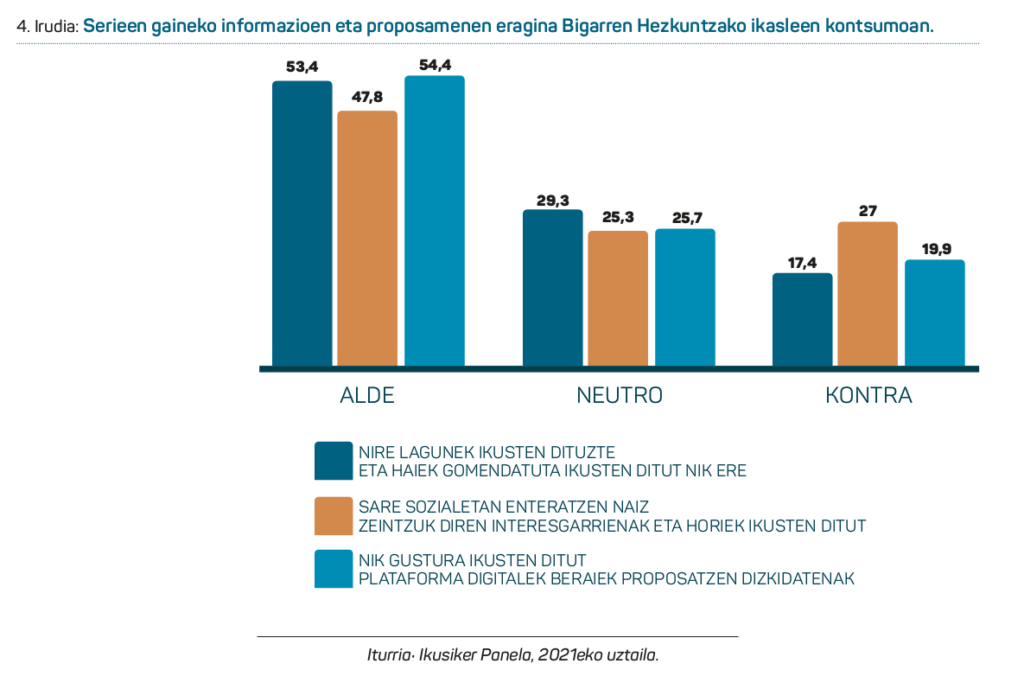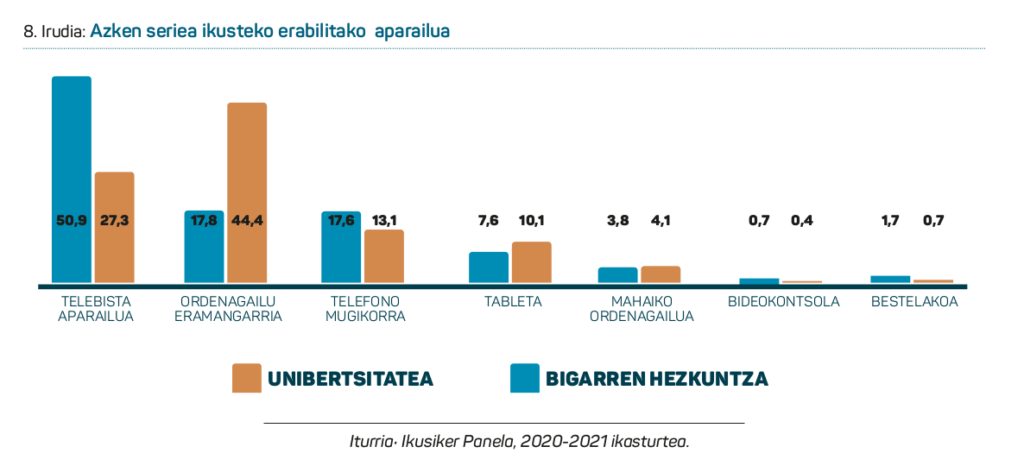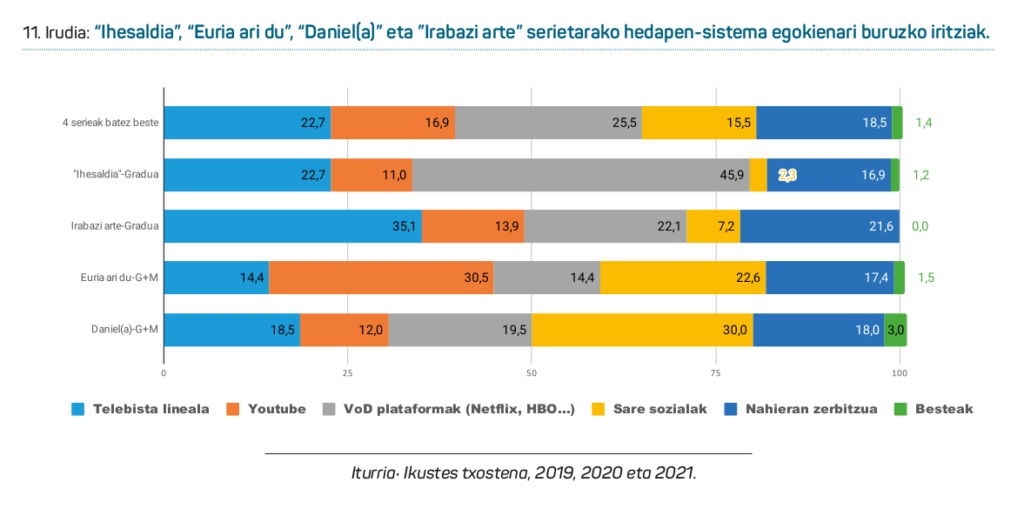 AIMC (2021):23 Sailors on the 2021 network. Ikusentzunezkoak: https://www.aimc.es/π-obras/navegantes -la-red/
AIMC (2021): General media framework in Spain 2021. Visual: https://www.aimc.es/others.studies -jobs/container -general/downloading -marco -general/
Arana Arrieta, E. et al. (2021): "The virus struck audiovisual consumption among young people", 77-92, in Libe Mimenza (eds.) Basque Media Yearbook. Leioa: Observatory.
Barlovento Communication (2022): 2021 Analysis of the audiovisual television industry. Visible: https://www.barloventocomunicacion.es/audi –annual/2021-analysis -of-la-industrial -televisi-audiovisual/
BIA (2021): Annual online video study 2021. Visible: https://iabpain.es/estudio/carreras -\-de-video-onlin-2021/
audiovisual consumption and the use of ICT". Panel Report Ikusiker University. July 2021. Applika research project (US20/21). UPV/EHU http://ikusiker.eus
Panel Ikusiker (2020): "Entertainment content and seen languages"). 15. Report. December 2020. Applika research project (US20/21). UPV/EHU http://ikusiker.eus
Panel Ikusiker (2021): "High school and university students
Panel Ikusiker (2021): "Series consumption"...18 of the Ikusiker Unibertsitatea Panel. Report. February 2021. Applika research project (US20/21). UPV/EHU http://ikusiker.eus
Mediametrie (2021): L'audience de la télévision en 2021. Visible: https://www.mediametrie .fr/fr/laudi–
We are social (2021): Digital 2021. Global overview report. Visible: https://datareportal.com/reports/digital-2021-amun-overview-report
SUMMARY OF PRODUCT CHARACTERISTICS
The research project of Applika+ (US20/21), in which the UPV/EHU, Tabakalera, EITB and the Basque Observatory of Culture collaborate. It contains different lines of work, two of which are cited in this article: Laboratory to test the Ikusiker Panel and the Audiovisual. The Ikusiker Panel aims to analyze audiovisual consumption and the use of Information and Communication Technologies (ICT) of youth in the Autonomous Community of the Basque Country and Navarre. The panel consists of high school (ESO) and university students from these two autonomous communities. The first includes those between 11 and 17 years of age, and the second includes those between 18 and 23 years of age. The average number of young people participating in research is that of young people. Surveys are conducted via the platform www.pollestafacil.com.
More information about the Ikusiker Panel can be found at www.ikusiker.eus